On Friday, the Bitcoin (BTC) market took a turn for the worst. The leading cryptocurrency, as reported by this outlet, tanked from $9,250 to $8,700 in a number of hours, with bulls running out of steam.
While the bearish pressure has stopped, with Bitcoin finding some support at $8,850 as the short-term downtrend has ended, analysts have asserted that the cryptocurrency market remains on thin ice. They claim that it may only be a matter of time before bears push the crypto to the low-$8,000s, and maybe even lower.
Bitcoin May Slip Further, Analysts Warn
Popular Twitter analyst Neko recently observed that Bitcoin's short-term four-hour candle chart remains rather bearish. In a recent tweet, he remarked that Bitcoin's "bullish volume looks extremely weak" and that BTC has broken crucial support at $9,000, implying a drop further. He added that with Mondays typically being "bloody," a drop to the $8,000 region is entirely possible.
https://twitter.com/CryptoNekoZ/status/1193249364396756997?ref_src=twsrc%5Etfw%7Ctwcamp%5Etweetembed%7Ctwterm%5E1193249364396756997&ref_url=https%3A%2F%2Fwww.newsbtc.com%2F2019%2F11%2F09%2Fanalyst-bitcoin-price-likely-to-fall-to-low-8000s-as-chart-remains-weak%2F
The GTI Vera Convergence Divergence Indicator shows a narrowing gap between the signal and vera lines, which suggests a trend change may be on the horizon. If this occurs, the largest digital currency could retest the lows seen before its rampant run following comments by China's President Xi Jinping in October.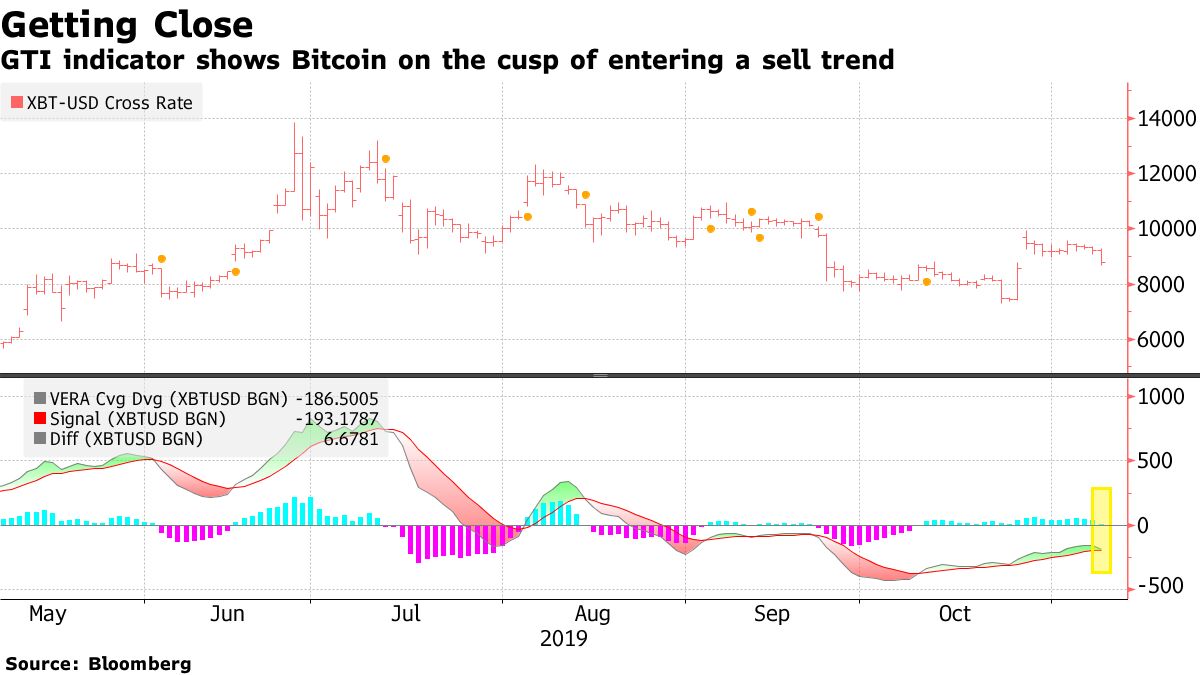 In other words, if a change in bull trend takes place, BTC is likely to fall to $7,300 once again, which is where Bitcoin was trading prior to Chinese leader President Xi lauding blockchain in a political setting.
While Schiff didn't explain his rationale in this latest tweet, he has been quoted as saying that BTC is an unreliable store of value and an improper investment, especially when pitted against precious metals.
Source: News Btc